This directory provides contact information for the people, agencies and organizations that are involved in research, education, leasing, growing, restoration and management of oysters in North Carolina.
---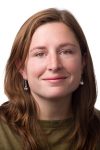 Title
Coastal Economics Specialist
Jane Harrison, North Carolina Sea Grant coastal economist, applies economic analysis and other social science methods to meet the needs of coastal residents and other stakeholders. Her work informs coastal decision makers about the intersections between sustainable use of ocean and coastal resources and economic development. Her recent research has focused on commercial fisheries and marine aquaculture policy. Harrison uses economic analysis, survey research and other qualitative methods to explain stakeholder decision making and inform outreach.
If you would like to be added to our professional directory, please contact oysters@nccoast.org