Preparing for 2018 Reef Building Activities

Through the 50 Million Oyster Initiative, the North Carolina Coastal Federation, North Carolina Division of Marine Fisheries and other partners restored 15 acres of oyster sanctuary in 2017 and plan to restore 10 acres in 2018. The goal of the initiative is to build 50 acres of oyster sanctuary throughout North Carolina by 2020. An additional 55 acres of cultch reefs were built in 2017 and at least 40 acres of cultch reefs will be built in 2018. In preparation for 2018 reef building activities, the NC Division of Marine Fisheries (DMF) and partners have finalized contracts and begun receiving materials for the new oyster habitat.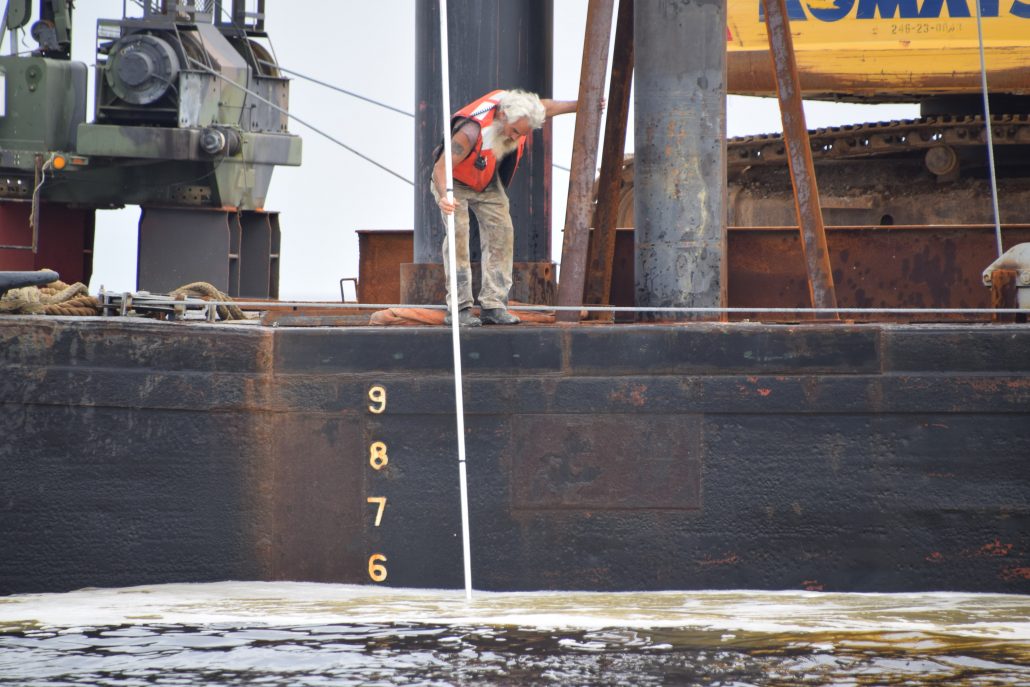 Cultch Planting– Contracts were signed to purchase 406,000 bushels of limestone and 73,000 bushels of shell for 2018's cultch planting efforts. This material is being delivered to six locations throughout the state: Wanchese, Swan Quarter, Hobucken, South River, TLZ Bluebird and Morris Landing. The limestone and shell will be used to build at least 40 acres of cultch reef throughout the state. The cultch planted reefs will be open to harvest once oysters reach legal harvest size of three inches. Work has already begun at TurnAgain Bay this month.
Oyster Sanctuaries– Contracts were signed and equipment was mobilized this week to advance the state's oyster sanctuary work. Nine trucks of class A granite riprap were delivered to the State Port in Morehead City on Monday. These are the first 300 tons of nearly 25,000 tons of material that will be used to build 10 additional acres of oyster sanctuary at the Swan Island Oyster Sanctuary in South River. The Swan Island Oyster Sanctuary is part of the Senator Jean Preston Oyster Sanctuary Network which includes 13 oyster sanctuaries throughout the state. The federation has partnered with NC DMF to secure additional grant funds from the NOAA restoration center to augment these reef building activities through a NOAA resiliency grant. These efforts are part of the 50 Million Oyster Initiative.
https://ncoysters.org/wp-content/uploads/2017/05/Page-four-photo-replacement.jpg
1880
4032
Jane Harrison
https://ncoysters.org/wp-content/uploads/2016/03/NC-oysters-logo.png
Jane Harrison
2018-03-29 09:19:12
2020-02-14 13:31:00
Preparing for 2018 Reef Building Activities