Swan Island Hurricane Effect Synopsis
The North Carolina Department of Marine Fisheries (NCDMF) monitored the newly created Swan Island Oyster Sanctuary in August 2018, as part of their annual monitoring effort, and again in November after Hurricane Florence. Monitoring results show that overall the number of oysters in the sanctuary increased after the storm. A bump in oyster spat was seen after Florence and accounts for the majority of the overall oyster population increase at this site during this timeframe. The NCDMF attributes this increase in spat to seasonal oyster spawning that occurs when the water temperature decreases. The observed decrease in sub-legal oysters is possibly due to a combination of cohort promotion and some mortality effect on this size class. The count decrease could also be a function of sample variability. The site will continue to be monitored in years to come.
Note: Spat are oysters less than 25 mm in size, sub-legal oysters are 25-75 mm in size and legal oysters are greater than 75 mm.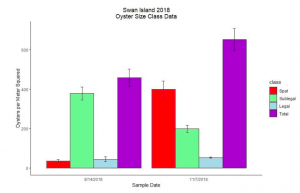 https://ncoysters.org/wp-content/uploads/2016/03/NC-oysters-logo.png
0
0
Jane Harrison
https://ncoysters.org/wp-content/uploads/2016/03/NC-oysters-logo.png
Jane Harrison
2019-02-05 09:33:00
2019-02-05 11:03:10
Swan Island Hurricane Effect Synopsis