CARTERET COUNTY — Barges have started moving about 25,000 tons of limestone marl as construction is underway on the Swan Island Oyster Sanctuary.
"After months of planning and preparation by our staff, as well as by the North Carolina Division of Marine Fisheries and other partners, it's great to see Stevens Towing breaking ground on the oyster sanctuary," said Todd Miller, executive director of the North Carolina Coastal Federation.
Construction on the 15-acre sanctuary — which is located in Pamlico Sound near the mouth of the Neuse River — began May 3. It is expected to wrap up in mid-July.
The division stockpiled the limestone marl, which it purchased from a North Carolina quarry, at its South River Facility. It took about 1,200 tractor trailer loads to bring all of the material to the stockpile location. Stevens Towing Company, Inc., which has an office in Edenton, started moving the limestone marl out to the sanctuary site on a 250-foot barge that holds about 1,000 tons of material.
Division staff are on-site during deployments to help with coordination and to make sure the material is at least six-feet below the surface. The reef ridges are four-feet high and about six-to-eight-feet wide.
"We're excited to play a role in this public-private partnership and oyster restoration," said Jason Peters, artificial reef coordinator for the division. "To build an oyster sanctuary of this magnitude takes a massive amount of material and detailed logistics."
Stevens Towing has experience in this work, as it constructed the oyster sanctuary the federation helped plan and design in 2009 with funding from the American Recovery and Reinvestment Act.
This sanctuary project is a public-private partnership, and it is funded through a grant from the National Oceanic and Atmospheric Administration's (NOAA) community-based habitat restoration program, as well as through matching appropriations from the state General Assembly. Additional funding is provided by Grady White Boats and through donor support.
Oyster sanctuaries provide a place for oysters to repopulate. These 15 acres will not be open to harvest, but neighboring cultch planting sites will be. The sanctuary and cultch sites work together to create an interconnected network of oyster reefs, helping improve oyster population numbers and water quality.
"These new reefs will benefit more than oysters — they are also Essential Fish Habitat for at least 26 species of fish," said Pat Montanio, director of NOAA's Office of Habitat Conservation. "These reefs will provide highly productive habitat that will benefit commercially and recreationally important fish including red drum and three species of shrimp."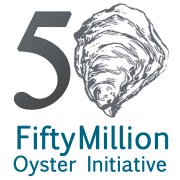 The project is the first major installation of the federation's three-year plan to restore 50 million oysters to North Carolina's waters. The federation launched the 50 Million Oyster Initiative at the end of 2016 with the goal of restoring 50 acres of oyster sanctuary by 2020. With each acre supporting approximately one million oysters, that will be 50 million oysters back in North Carolina waters, supporting habitat for countless fish and wildlife. And as each oyster is capable of filtering 50 gallons of water per day, those 50 million oysters together will filter 2.5 billion gallons of water per day.
The North Carolina Coastal Federation collaborates with multiple stakeholders and partners to promote oyster restoration, education, science, mariculture and sustainable harvest efforts in the state. We are the state's only 501(c)(3) nonprofit organization that focuses exclusively on protecting and restoring the coast of North Carolina through education, advocacy and habitat preservation and restoration. With our partners, we aim to have the North Carolina coast regarded as the "Napa Valley" of oysters. Connect with us to stay informed about upcoming oyster events, the latest news and science and oyster restoration efforts.