Grower Profile: James Hargrove
James Hargrove
Middle Sound Mariculture, Wilmington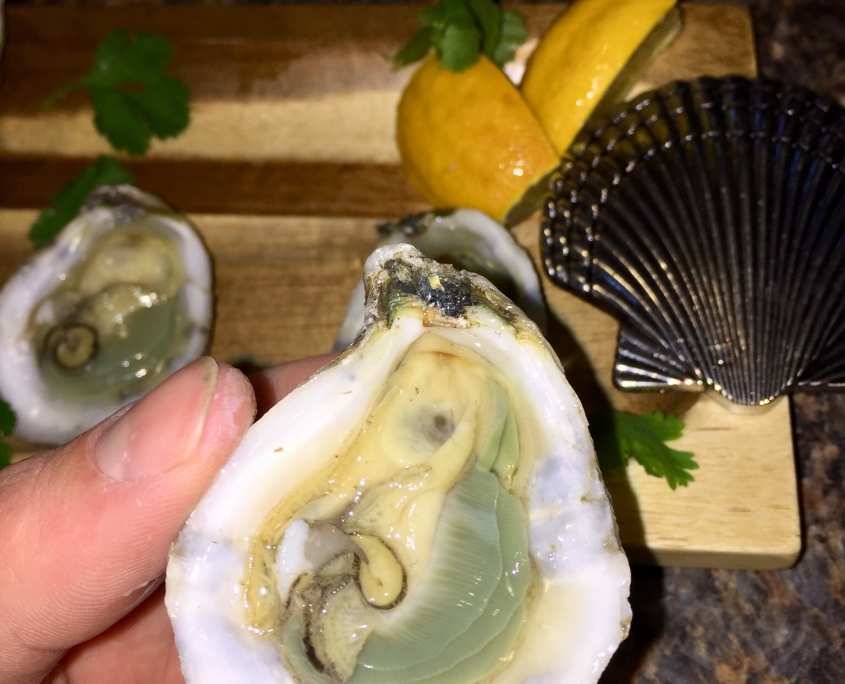 "At Middle Sound Mariculture we are applying science to grow delicious and sustainable shellfish."
Middle Sound Mariculture has embraced the concept of North Carolina being the "Napa Valley of Oysters" by siting their family-run farms in different regions of southern N.C. This allows them to capture the unique merroir associated with each location's ecology and provide some of the finest and freshest oyster varieties North Carolina has to offer. Three of their farms impart the unique flavors of their growing waters-
The largest farm is located in the waters of Stump Sound adjacent to the Permuda Island National Estuarine Research Reserve (NERR). This system is renowned for producing top quality shellfish. These oysters have a mid-salinity (15-25 ppt) and are well balanced with strong vegetal afternotes. These Stump Sound oysters are named the Tarheel Tiderunner.
Heading south, another farm is located behind Topsail Beach about three-fourths of a mile north of New Topsail Inlet. The highly productive waters of this farm impart a crisp clean profile. The high salinity (29-34 ppt) and clean mineral finish will "take you on a mini vacation to the beach."
Last but not least, their farm in Masonboro Sound, adjacent to the Masonboro NERR, has the highest salinity (33-36 ppt) and a buttery texture. It's been said that "eating these oysters is like getting a kiss from a mermaid" due to their brininess that is balanced out by a sweet afternote. Oysters produced from this farm are named Teach's Treasure after the famous pirate Blackbeard (aka Edward Teach) who kept his treasure behind Masonboro Island until Middle Sound found it in 2016.
James Hargrove, owner and operator of Middle Sound Mariculture, has growing oysters down to a science. He first started studying oysters at the University of North Carolina Wilmington's (UNCW) benthic ecology lab in 2010, after moving from Charlotte. After graduating with his Bachelor of Science in marine biology, he worked as an environmental consultant for the National Oceanic and Atmospheric Administration's Natural Resource Disaster Assessment program on the Deepwater Horizon oil spill; studying oyster larval settlement and population dynamics from Louisiana to Florida. Seeing oyster populations across the Gulf of Mexico and up the East Coast being devastated from human related water quality issues fueled his passion oyster research. He returned to UNCW where he earned his master's degree in marine science, focusing on applied shellfish aquaculture. Shortly after graduating, he applied for a shellfish lease. The application process took over three years to successfully navigate, but he has been happy as a clam at high tide ever since establishing his leases.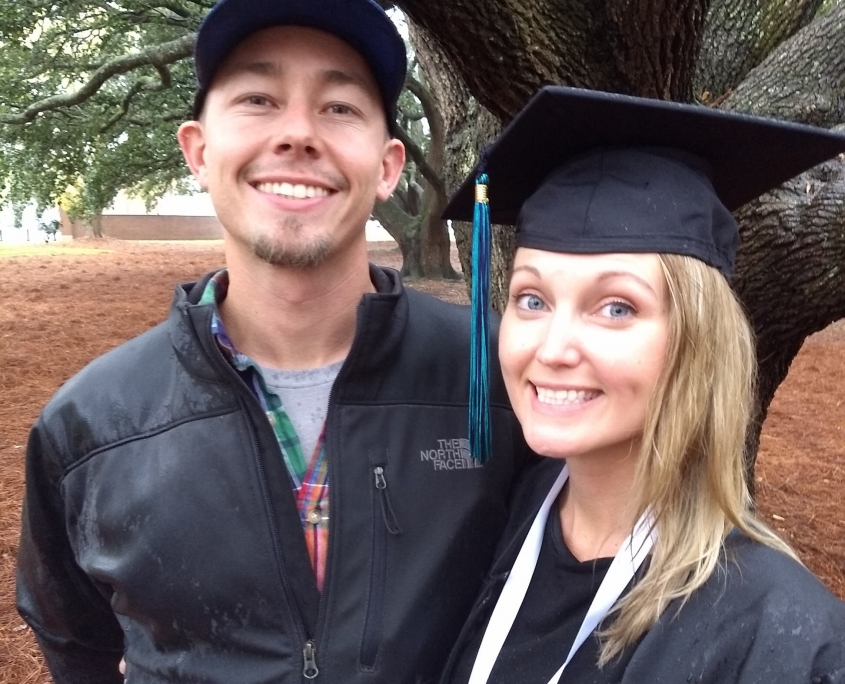 On the farms he uses multiple methods such as; adjustable long line, bottom trays and floating cage methods for growing his oysters. These methods help to ensure oysters are lifted up into the water column where they can filter plenty of algae and natural waves help to give them the perfect rounded shell shape.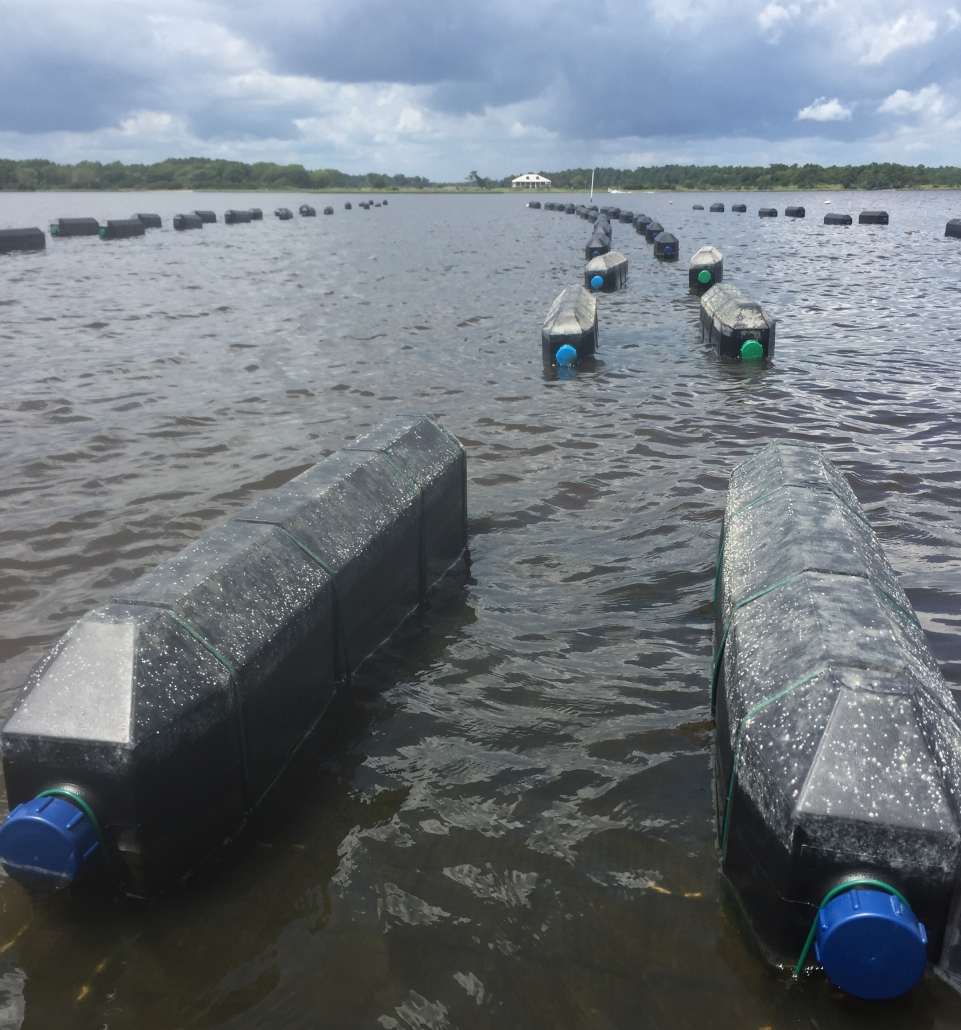 Hargrove doesn't just want to grow oysters, he wants to grow the very best quality oyster.
"Quality over quantity," said Hargrove. "The limited number of hand crafted oysters we produce will be nothing short of a premium quality product that can go toe to toe with any oyster in the world. We are cultivating more than just oysters, we are cultivating an experience that brings people to the ocean."
Middle Sound Mariculture has plans to improve and expand their offerings over the next few years. Eventually, they hope to produce an estimated 10 million oysters per year. These oyster will filter up to 500 million gallons of water per year and provide habitat to shrimp, crabs, flounder and North Carolina's state fish, the redfish. If beer is your thing, you can taste their oysters in a locally smoked oyster porter—a collaboration with a local microbrewery in Wilmington, Fly Trap Brewing. Hargrove also plans to incorporate oyster-farm ecotours with paddle boards and kayaks. At the end of the day, Middle Sound Mariculture wants to share their story and provide a great experience for its customers.
In the meanwhile, Middle Sound Mariculture currently sells to Locals Seafood, who distributes the most available variety, the Tarheel Tiderunner, to restaurants around the Triangle and Outer Banks. Occasionally they can be found at local seafood restaurants in Wilmington. Ask for them by name at your local raw bar.
Middle Sound Mariculture – Taste the Difference
Contact information:
Email: middlesoundmariculture@gmail.com | Facebook | Instagram | Cell:  (704) 914-6174
https://ncoysters.org/wp-content/uploads/2019/04/IMG_1972-1.jpeg
2592
1944
Jane Harrison
https://ncoysters.org/wp-content/uploads/2016/03/NC-oysters-logo.png
Jane Harrison
2019-04-04 15:47:35
2020-02-14 14:01:24
Grower Profile: James Hargrove